How Long Does It Take to Plan a Wedding?
Have you heard the expression that a task takes the time allotted to it? Wedding Planning is exactly like that. It can take weeks to years, depending on… well, that is what this article is about:
When Is Your Wedding?
Assuming you do not have a shotgun pointed at your head, you will take some time to plan your wedding – even if it is an elopement. Once you set a date, you can calculate how much time there is between now and then; alternatively, you can do it the other way – which is to decide how long you need to plan the wedding and then set a date.
Set Your Priorities
The closer the date, the fewer choices you get to control because fewer resources are available. Pick the most important item(s) to you and your future spouse to lock in first. It could be the date, the ceremony location, the reception, the attendance of someone who lives far away, the time required to obtain a specific wedding gown, or perhaps the availability of your favorite vendor: the officiant, florist, photographer, videographer, caterer, a wedding singer, band or DJ, or wedding coordinator.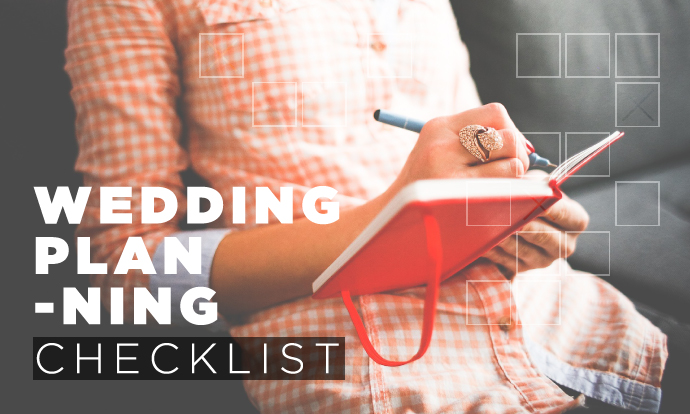 What Is Your Style?
Planning a wedding is about creating several different events to happen in a short period of time.
Are you a lone planner or do you work better as part of a team?
How much can you do in a day with or without getting stressed?
Can you make many decisions on the spot, do you need to have someone with you or do you need to "sleep on it" so that you do not change your mind?
How much research do you want or need to do before you start planning?
Will you rely on the experience of a family member or friend?
Will you hire a wedding coordinator and use their experience to shorten your learning curve and use vendors with whom they have proven successes?
How Close Do You Live to Your Wedding Location?If you do not live near the location of your wedding, how many trips to your wedding location will you make before the wedding? Are you depending on family members, friends, or local vendors and strangers to help make decisions? Will you have other events and responsibilities when visiting this location, i.e.: how much time will you have for wedding planning when you are there?
Enjoy the Process
You want a put together event. Hopefully, you only have to do this once. Create and use a team to help you. If you can afford it, do not reinvent the wheel and use experienced wedding professionals. (They have already made their mistakes on someone else's event.)
Take a break and for some comedy and light entertainment [http://www.brideandgroomthankyougifts.com/romance-and-wedding-dvd-movies]. There is a nice list of wedding planning movies you can watch with your intended or planning team.
Summary
Wedding Planning is about research, preferences, priorities, trade-offs, budget, compromise and decisions.
Who is on the planning team, who is on the implementation team, and what are their assignments?
Who controls the budget and who is the final decision maker?
You can focus on your wedding planning and get it done it a short time or you can take the same amount of time or longer and stretch it out over weeks or months. How long will it take to plan your wedding? It is up to you.
Where to Shop
Go to [http://www.brideandgroomthankyougifts.com] for wedding presents, wedding gifts and wedding favors. We know what it takes to plan a wedding… Look around our website to find most wedding day accessories, wedding thank you gifts, and traditional wedding day items associated with events of a wedding. Find wedding bubbles, bridal party gifts or wedding thank you Gifts for All your wedding day guests.
We have been in this business for more than 15 years! You will find what you are looking for here, and if by chance you don't, please let us know so we may find it for you! We have more helpful information and additional articles which may assist you as you plan for your special wedding day. Our expertise is providing you creative, tasteful and memorable gifts to thank everyone who is involved in your wedding. Sign up today for our exclusive offers.
Copyright 2007 – Marketing Good Stuff, Inc. All Rights Reserved Worldwide. Reprint Rights: You may reprint this article as long as you leave all of the links active, do not edit the article.
Article Source: http://EzineArticles.com/expert/Elizabeth_Hamilton/108453